| | |
| --- | --- |
| HyperSec Consulting Group Services Network Monitoring | |
Our Network Monitoring Set is basicly a complex union of tools to monitor your network environment, this mode could work in two modes:
Active: We are an active part of the environment, in this mode you can get other 2 submodes:

-Bridge Mode: We analize the traffic in real mode via the bridge model
(transparent).

-ARP Based Sniffing: We deploy attacks like "arp-poisoning and arp
spoofing", to analize the entire network infraestructure.


Passive: We are a promisc part of the environment, this mode has only one mode and the mode is, checking the packages in promiscuous mode like a sniffer does.
If you want to know more about our network testing service, please download the requisition form and send it to info@hypersec.co.uk

And please fill the correct blanks, because we need to know everyhing about the future plan of the network monitoring infraestructure.
Network Monitoring Set: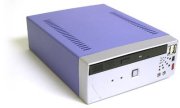 [
Right
]
[
Left
]
[
Ports
]
[
Front
]
[
Main
]
Powered By:

HSC (HyperSec Security Console)

NTOP / NFLOW

HyperSec Security Tools

CANVAS

HyperSec Abnormal Operation Analizer

Assesment Checker

and MORE!!!